Residential Locksmith in Whittier, CA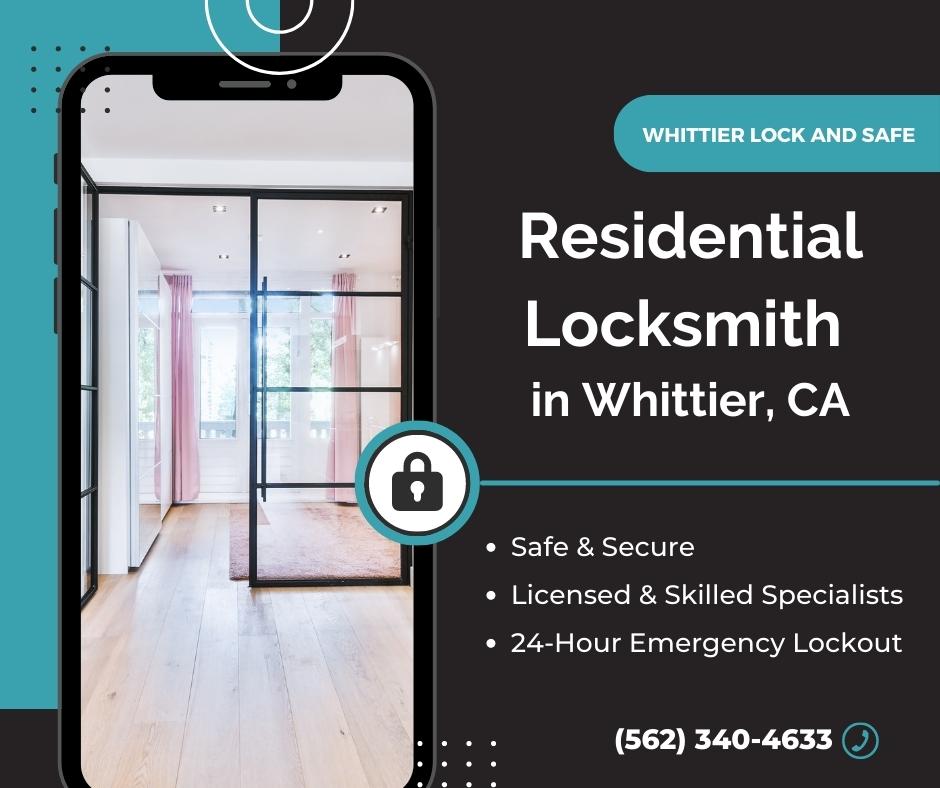 Today, it is clear that every household uses security systems to protect their family, possessions, and space as securely as possible. Similarly to this, the significance of security systems in workplaces has grown due to the need to ensure that everything is secure. The fundamental premise of a home security system is to cover doors and windows with sensors connected to a control panel strategically placed in a room's corner. Safety is the main priority of a home security system. No matter how big the house is, how many windows, doors, or interior rooms there are. A homeowner is in charge of protecting their house, family, and possessions against injury and theft.
Our clients are our priority at Whittier Lock and Safe. While there is a greater-than-ever demand for professional lock & key services, there is also a need for inexpensive services. To guarantee that the locals of Whittier, California, get the most advantage, we combined quality and cost.
Our Main Services
Home security consultation
Fear that the security architecture you have in place isn't strong enough? Let our professionals examine it! The security level is determined after an extensive evaluation. If necessary, we'll recommend and put in place security measures to protect your area from outside dangers. We handle everything, including replacing the door/window hardware and installing new locks!
Lockout assistance
You may lose access to your house due to lost keys or broken locks. Instead of taking harsh steps like breaking the door or the lock under such circumstances, make wise decisions and seek expert assistance. We can open almost any lock with little to no damage, giving you the fastest possible access.
File cabinet locks
Documents are kept secure in file cabinets, making it simple to get them when required and adding order to the disarray that a huge pile of papers may cause. Although they are often used in enterprises, more households are beginning to recognize their incredible usefulness. They have evolved into the top storage areas in houses, used to store anything from bank information to letters, insurance documents, medical records, and even cash and jewels.
Rekeying of locks
Have you relocated to a new place? Have you ever given someone your keys and needed to remember where they went? If so, we can re-key your locks to assist you in regaining key control. The procedure entails altering the lock's internal pins so that a new key may operate. By doing this, any outdated lock keys still in use will be worthless.
Keyless entry systems for homes
Keyless entry systems for homes provide convenience, security and peace of mind. They are an ideal solution for busy households or those that need to grant access to multiple people. Keyless entry systems allow users to unlock doors with a code, card, key fob or smartphone. We provide a comprehensive keyless entry system service for homes. Our system is designed to be easy to use and secure, allowing you to control access to your home without needing keys. Our systems allow you to easily add or remove authorized users with the press of a button and are compatible with most smart home systems. We also offer 24/7 technical support if you ever experience issues while using our system. Our keyless entry system makes you feel confident that your home is secure.
New locks installation
Newer and better locks are being offered to the market as technology advances. Refusing to adapt to change may take much work. With the help of our new lock installation service, you may benefit from the increased security features provided by modern lock systems. We provide the finest possible security for your area, from mailbox lock improvements to garage door lock upgrades.
Residential Eviction Service
The most complex and confusing relationship is between a landlord and a renter. Everything is OK if the tenant follows the rules, pays the rent on time, takes care of the property, and maintains a reasonable code of conduct. But regrettably, it is only sometimes how things work out. Problematic renters that cause damage to the property, participate in an unlawful activity or blatantly violate the conditions of the rental agreement are often a source of frustration for property owners.
Residential master key lock
Do you often lose track of several keys, re-key the locks, or order extras? You may end your key management problems by installing a home master key lock. This method, which is intended to reduce the number of keys needed to enter a specific location, offers residential property owners a variety of additional benefits.
House lock change
Every day a home gets broken into. Articles on the reason for the break-in, the damages incurred, and other topics are widely available in newspapers. Even if you hear about such incidents regularly, it's conceivable that you'll end up in one of the news articles yourself if you neglect your home security. Crime rates are at an all-time high, criminals are becoming more intelligent, and we must take preventative action to stop them. Changing the locks on your home is one technique to increase the security of your property.
Other services we provide:
Lock repair/maintenance

Advanced lock installation

Padlocks, deadbolts

Door repairs/installation

Chain locks

Broken key extraction from locks

Peephole installation

Garage door lock installation

Recommendations on lock selection

Spare keys made
Why Choose Us
Our family-run Whittier business has offered residential locksmith services for more than ten years. Our team of skilled professionals is dedicated to providing top-notch customer service and high-caliber work. To make sure that your house is safe and secure, we only utilize the best tools and supplies. The most fantastic locksmith services are offered to you by our licensed and skilled specialists. We provide routine maintenance, installation, and 24-hour emergency lockout services. We also provide services for key duplication and re-keying. We greatly value security and safety and will do all our power to meet and surpass your expectations. We are committed to ensuring the constant safety and security of your house. You can be confident that your property is adequately safeguarded with our residential locksmith services.
Contact Us
Welcome to our Whittier Residential Locksmith website. We are here to provide you with expert and dependable locksmith services. Our skilled professionals are available 24 hours a day, seven days a week, to assist you with your home locksmith needs. Whether you need new locks installed or an existing lock re-keyed, we have the skills and experience to get the job done well. Please contact us at (562) 340-4633 immediately to get more information about how we can assist you with keeping your house safe and secure. We hope to hear from you shortly.