Car Locksmith in Whittier, CA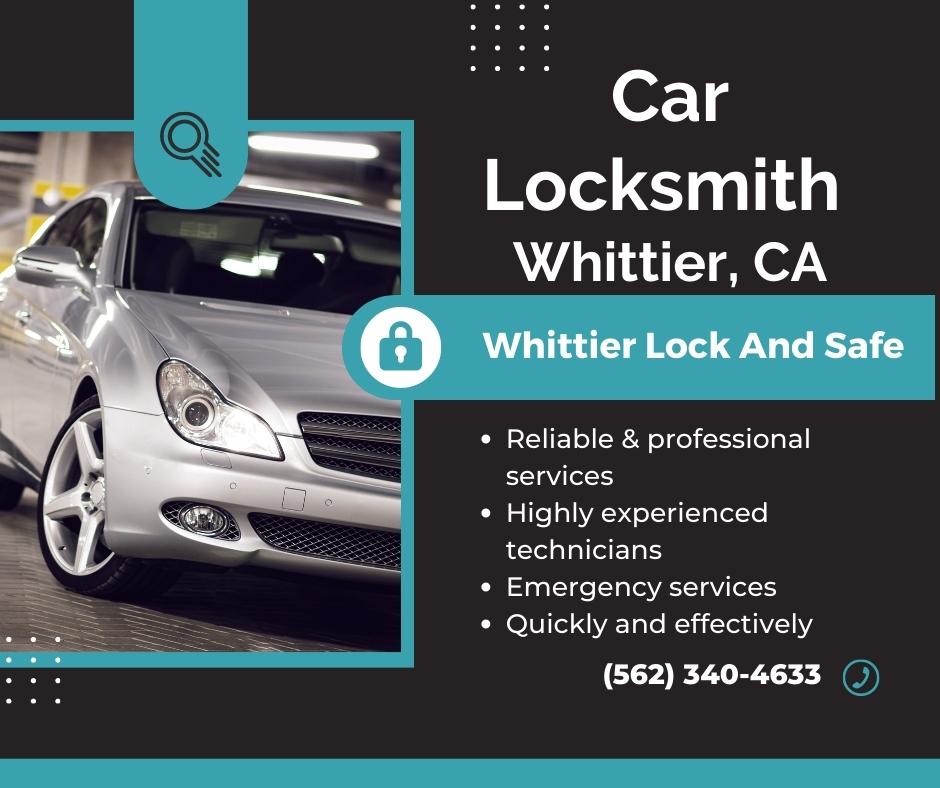 You want to keep your car secure, whether it is brand new and pricey or a smaller, more modest vehicle a few years old. Your car is how you go to and from work, pick up the kids, grocery shop, travel, and have fun. Your automobile is more than just a convenience. It is a must. As a result, it is natural that you want to do all possible to keep it secure. You ensure that it is well-maintained, clean, and operating.
Whittier Lock And Safe have established an automobile locksmith section to meet car owners' specific lock & key needs, with 24-hour availability, roadside assistance, mobile solutions, and project experts. We've only extended, optimized, and simplified our work throughout the years to give our customers excellent service. We are adept in a wide variety of duties, from dealing with automobile lockouts to making car keys, making us your one-stop locksmithing partner.
Our Main Services
24-Hour Roadside Assistance
We decided to go mobile since it was still being determined where the lock-and-key event would occur. You can find yourself stuck anywhere you go and needing services like new keys or ignition repairs. Since we'll bring our fully furnished, cutting-edge mobile cars, you don't need to bring your car to us if you reside in the Whittier, California, region. Since we have everything we need for the work carried in our vans, we can do anything on site, including repair, key programming, unlocking locked doors, and ignition repair. No matter the time of day, we are always here for you; our team is available 24/7, ready to lend a helping hand whenever you need it.
High-Security Keys
Alarm bells began to ring in the 1990s as auto theft rates increased, and it became clear that vehicle security needed to be improved. Since then, the vehicle security business has seen nothing short of remarkable growth. One of the main obstacles was overcoming the flaws of typical keys and locks. The locks could be easily opened, and the keys could be copied. High-security keys were the industry's response to try to put an end to it all. Vehicle thefts dramatically decreased once these keys were added to automobiles. If you drive a newer car model, it's probable that it already has this technology. If not, you should update it now.
Key Cutting For Automotive
If you've misplaced a vehicle key, you may know how difficult and expensive it is to get a replacement. Key cutting for automotive cars is time-consuming, so you can have to spend a sizable sum of money in addition to having to go days without driving your car between appointments. If you don't have a spare, it's a drawn-out, time-consuming operation that might prevent you from getting into your car. Suppose we told you there was a quicker and cheaper alternative. Car locksmith services are available at Whittier Lock And Safe.
Car Remote Programming
The key must be inserted into the lock on the door handle to open conventional car models. However, the potential for automobile theft via key duplication forced automakers to investigate alternate possibilities, creating remote keys that don't need to be physically held against the vehicle to lock or unlock it. You can't have automobile remote programming done at your neighborhood hardware shop if you've misplaced a remote key. Whittier Lock And Safe are here to help you with all types of remote car programming.
Key Making
Keys are easily forgotten, lost, or stolen because of how little they are. Additionally, they are far more likely to malfunction or break due to frequent usage. Your keys may suffer from wear and tear, physical harm, severe weather, etc. While you may get the keys to your house or cabinet by going to the neighborhood hardware shop, what happens if you need a replacement for your automobile key? Car keys are technologically sophisticated, sophisticated, costly, and beyond the scope of your neighborhood mechanic. Who then can assist you? We at Whittier Lock And Safe can assist you in making any automobile remote you may have.
Key Fob Repair/Replacement
Key fob replacement service provides a cost-effective and convenient way to quickly get back on the road. Customers can trust the expertise of experienced technicians to ensure that their car key fobs are correctly programmed and working as expected. Our service is available for most makes and models of cars, and the team can provide advice on how to best care for your key fob. By using key fob repair service, customers can be confident that their car key fob is in safe hands and will be returned in perfect working order.
Locked Keys In Car
Ever lock your keys in your car? It's not just you! You can forget to take your keys with you before closing the door due to a brief memory lapse. All is not lost; if you're savvy enough to know where to go for assistance, you can still acquire access. People turn to read blogs with access-gaining advice or viewing web videos in a last-ditch effort to gain access. We provide fast, friendly, and professional service to help you regain access to your vehicle. Our technicians are well-trained and experienced in using specialized tools to open the door without causing any damage.
Other Services We Offer
Unlocking of car trunks

Transponder key programming

Laser car keys made

GM Vat keys

Ignition repairs

Lock repairs

Transponder system reconfiguration

Ignition switch replacement

Car door unlock
Why Choose Us
We are the best car locksmith service in the area, offering reliable and professional services. Our team of experts is highly experienced in all aspects of car locksmithing, so you can be sure your vehicle is in safe hands. We also provide emergency services to resolve any lock or critical issue as quickly as possible. Our prices are competitive, and we guarantee satisfaction with every job. When you work with us, we'll ensure your auto locksmith requirements are met quickly and effectively. We take great pleasure in giving our clients the finest service possible and ensuring they are delighted with the work we do for them.
Contact Us
We are a Car Locksmith service here to help you with vehicle lock needs. Our team is here to assist if you need a new key, key duplication, or rekeying services. Our friendly and knowledgeable staff can answer any questions about our services. Call us at (562) 340-4633, or fill out the form below to contact us. Soon, we hope to hear from you.