Commercial Locksmith in Whittier, CA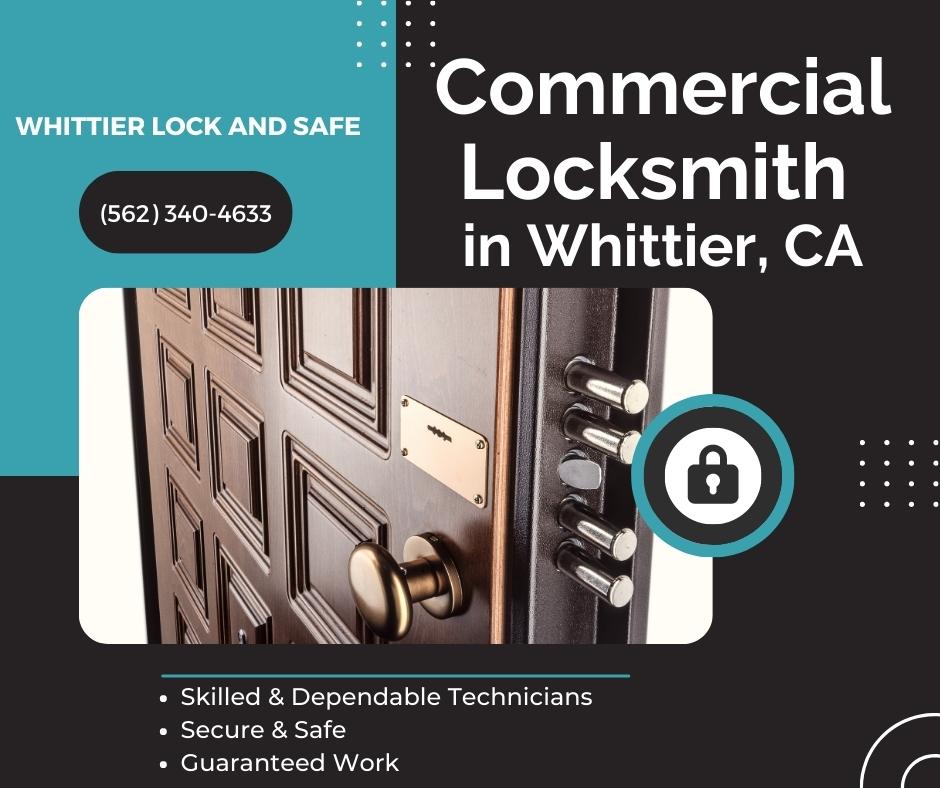 Protecting their workplace from internal and external dangers has become a top issue for many business settings. You may rely onWhittier Lock And Safeif you need one-stop solutions to protect your workplace from intruders. We can help secure your entrance doors and propose cutting-edge locking systems to restrict staff access within your workplace, among other commercial locksmith services.
What Sectors Do We Serve?
Since starting our locksmith company many years ago, our commercial locksmiths have provided security solutions for businesses of all sizes, from small stores to large corporations. We have extended our services to include the following industries, among others:
Retail: Our commercial locksmiths can provide lock and security services to retail stores, including installing high-security locks, alarm systems, and security cameras.

Healthcare: Healthcare facilities rely on secure lock and security systems to protect patient privacy and sensitive medical records. We can provide lock and security services to hospitals, clinics, and other healthcare facilities.

Education: Our company also provides lock and security services to schools, universities, and other educational facilities, including installing access control systems and security cameras.

Government: Government buildings and facilities require secure lock and security systems to protect sensitive information and ensure the safety of employees and visitors.

Financial: At Whittier Lock And Safe, commercial locksmiths can provide lock and security services to financial institutions, including banks, credit unions, and other financial service providers.

Industrial: Industrial facilities often require secure lock and security systems to protect equipment, machinery, and other assets.

Hospitality: Hotels, motels, and other hospitality businesses require secure lock and security systems to protect guest rooms and other areas.

Other: Commercial locksmiths can also provide lock and security services to other businesses, such as restaurants, salons, and service providers.
Our Main Services
Commercial lockout assistance
Our commercial lockout assistance service provides businesses with a reliable and quick response to any lockout or security issue. We offer 24/7 emergency services, so businesses can rest assured that they will receive help promptly. We are also experienced in dealing with all types of locks, including digital and keyless entry systems. Our staff is friendly, knowledgeable and highly trained in the latest security technology. Our service can provide businesses with the peace of mind that their security needs are taken care of.
File cabinet locks
Our commercial file cabinet locks service provides secure and reliable access to essential documents. The locks can be used in any size or type of filing cabinet, allowing users to control who has access to sensitive documents. We offer a variety of features, such as keyless entry, key override, and master keys. With these locks, your businesses can rest assured that their confidential information is safe from unauthorized access. We are designed for easy installation and use, making them an ideal solution for any business. We are also durable and long-lasting, ensuring your security investment is protected for many years.
Garage Door Locks
Businesses use trade cars for various tasks, including delivery, equipment transport, enabling staff mobility, visiting clients, etc. As a result, protecting these critical wheeled assets becomes essential. And what better way to keep them safe than to increase the security of your business garage? Our commercial garage door locks are available in manual and automated systems, making it easy to choose the right one for any business. Additionally, we come with various features, such as keyless entry, remote access, and automated locking/unlocking systems. With our service, your businesses can ensure that their premises remain safe and secure.
Commercial eviction service
In contrast to residential buildings, business properties often have more enormous stakes since commercial tenants typically pay higher monthly rentals. As a result, no property owner would want to end the cordial landlord-tenant relationship. However, this relationship may rapidly become tense due to conflicts over various issues. The renter could not pay the rent on time, refused to follow the lease terms, or took care of your property poorly. The two parties may usually come to a peaceful arrangement via dialogue, but there are situations when you'll need to use the last of your options—an eviction.
High-Security Locks
We hear accounts of terrible break-ins, burglaries, vandalism, and more almost daily; these incidents were caused by inadequate security. While it causes the theft of recoverable items like jewels and cash in a domestic setting, among other things, commercial settings suffer far worse consequences. Critical data is stolen and sold to rivals, private information is made public, reputations are damaged, and firms suffer significant financial losses. A firm might collapse overnight due to poor security.
Key cutting for commercial
The shared key has evolved into more than just a crudely cut metal used to unlock locks. Keys have developed to a complexity that makes it almost hard for thieves to quickly produce duplicates due to the desire for higher security and industry advancements. This is particularly true for commercial buildings, where a greater level of protection is often sought, and the lock systems employ complex keyways that can only be opened by keys that have been appropriately created.
Panic bar fresh installation
In congested institutions, what happens in the event of an emergency? You can't count on people to stay collected and calm when leaving the building in the event of a fire or an earthquake. Such situations put people in the "flight or fight" mindset, which may result in more fatalities than the actual catastrophe when individuals are crushed to death or asphyxiated during their frantic attempt to flee. Following a series of similar catastrophes that made headlines in the 19th and 20th centuries, emergency exits were made obligatory by practically all regulatory bodies.
Other Commercial Locksmith services:
New lock installation

Comprehensive business security solutions

Keypad powered locks

Emergency exit lock installation

Commercial garage door locks

Unlocking file cabinets

High-security lock installation

Safe opening/installation

Key making service

Door repair/installation

Multi-level master key system

Keyless entry locks

Smart locks installed

Security audit of the premises

Sturdy deadbolts

Magnetic locks
Why Choose Us
We are skilled, dependable, and committed to providing first-rate service. Your security requirements will be fulfilled with skill and knowledge thanks to the extensive training and certification our professionals have received. You may be confident that your property is secure and safe since we only use the best materials. Additionally, we provide emergency services around-the-clock, so you can always depend on us to be there for you. You may be sure you're getting the most value for your money with our affordable rates. You never have to be concerned about a project being appropriately done since all of our work is guaranteed. You can rely on us to do the task correctly the first time since we are dedicated to giving our clients the most incredible experience possible.
Contact Us
At Commercial Locksmith in Whittier, CA, we understand that security is of the utmost importance to our customers. If you ever need our services, please don't hesitate to contact us at (562) 340-4633. Our helpful customer care staff is here to help you every day of the week, 24 hours a day. We look forward to giving you the most outstanding assistance and assisting you in safeguarding your company.