Emergency Locksmith in Whittier, CA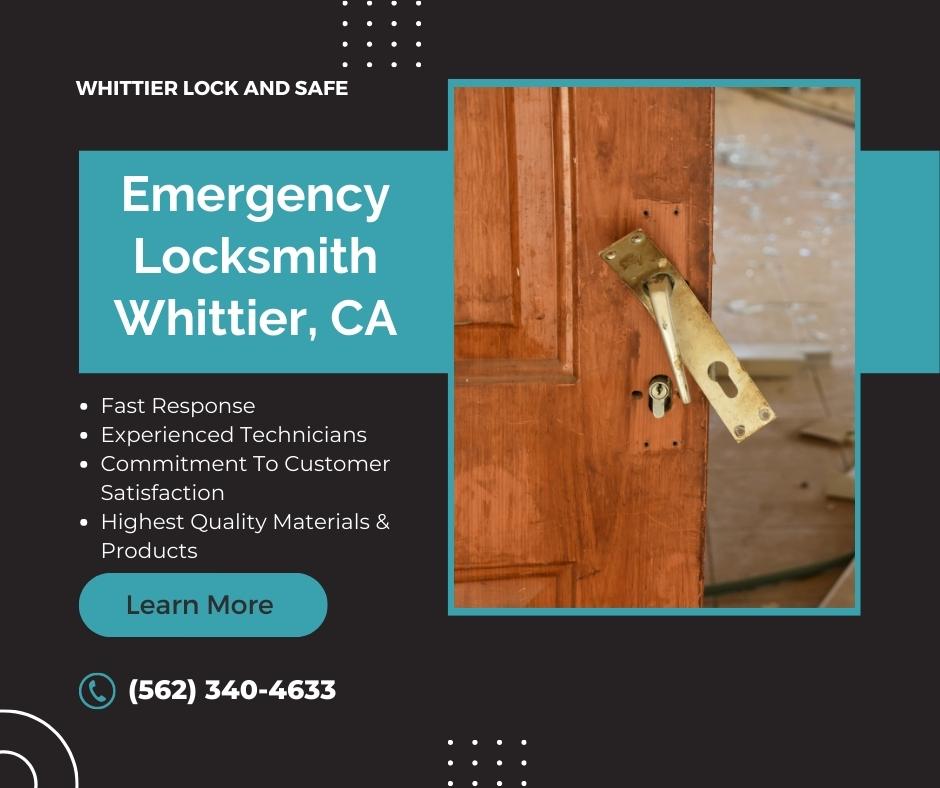 We all make mistakes and forget things in our everyday lives, which may cause stress. The worst-case scenario for someone who tends to forget things is leaving their keys inside their house or vehicle and becoming locked out. Imagine being in such a circumstance around the holidays, on a chilly winter night, or in an unsafe place. This is a perilous and unsafe position. Local locksmiths are usually unavailable in such situations.
In these situations,Whittier Lock And Safeemergency locksmith services may be beneficial, and several firms provide them. The most important consideration when hiring a business is their working hours since it is difficult to find a company that provides emergency locksmith services around the clock. That is the primary concern of the consumers. Also, if you're wondering why you need an emergency locksmith, consider the scenarios you may find yourself in and the ramifications they could bring.
Our Main Emergency Locksmith Services
Emergency Home Lock-out
It may be stressful and upsetting to be locked out of your house. This is where an emergency house lockout service may help. Residential locksmiths offer this service to assist homeowners in regaining entry to their homes in the case of a lockout. A residential locksmith can swiftly and efficiently open your doors and protect your house if you've misplaced your keys, your lock is malfunctioning, or you're suffering other security difficulties. Whittier Lock And Safe provides emergency house lockout assistance to Whittier, CA residents.
Emergency Car Lock-out
We provide customers with fast, reliable and professional service when locked out of their vehicles. These services offer a variety of solutions to help you get back into your car quickly and safely. From unlocking doors to making key copies, our services have the right solution for any situation. We have experienced technicians who can open any door lock, trunk locks, glove box and more. Trust the Emergency Car Lockout services experts for all your car lockout needs.
Emergency Office Lock-out
We provide businesses with a quick and reliable solution when their doors are accidentally locked or employees cannot access their workspace. Our services are typically provided 24 hours a day, 7 days a week so that business owners can get back to work as soon as possible. Our service involves a professional locksmith visiting the location and quickly gaining access to the locked door. This could involve picking the lock, creating a new key, or even drilling out the lock if necessary. Our experts will also be able to provide advice on any additional security measures that may be needed to prevent future lockouts. Emergency office lockout services are a great way to ensure that businesses are not disrupted by an unexpected incident and can resume operations quickly and safely.
Key Makers Near Me
The one thing you do nearly unconsciously every day has locked the things you value after you. You secure your safe, your house, your automobile, and pretty much anything else of worth. When keys, the components that allow you to access what's behind closed doors, go missing, it may throw your whole routine out of kilt. You can restore access quickly if you have a backup set stored in a safe location or given to a friend, but what if you don't?
Lock Installation
Returning home one night to discover the lock smashed and your house plundered is every homeowner's worst fear. After you've contacted the police, replacing the lock would be your main worry should your property become a tempting target for criminals again. On the other hand, finding a locksmith for lock installation in the middle of the night is difficult. Most businesses advertise 24-hour service, but when you call, you'll discover their lines are busy, you'll get no answer, or worse, you'll be refused service. So, what are you going to do? If you live in the Whittier, CA region, you'll never have to endure such agony since Whittier Lock, And Safe is here to help!
Emergency Eviction Service
Evictions are terrible; they are poorly executed transactions that lead to hatred between the two parties involved. Evictions are seldom carried out courteously and acceptably. Nonpayment of rent, violation of contractual conditions, inappropriate social conduct, or involvement in criminal activity often prompt landlords to take the drastic step of evicting the tenant from the property. If you have a problematic tenant, you can only change the locks and lock them out of the property by employing emergency eviction services.
Emergency Master Key Lock
Were you tired of carrying a bulky key ring? With a master key system, you won't have to. It was designed to simplify key management but now offers several additional advantages.
Rekey Locks Emergency
Misplacing your keys or giving them to individuals you no longer trust may devastate your feeling of security. However, you can partially overhaul your security system to resecure your property. It's not only a costly venture but also entirely useless.
Why Choose Us
Fast Response
We realize the value of having a dependable and trustworthy locksmith in times of need at Emergency Locksmith Services. We work hard to offer you the best services and solutions when you need them the most. For your convenience, we provide a broad selection of emergency locksmith services 24 hours a day, seven days a week.
Experienced Technicians
When you choose Emergency Locksmith Services, you can be sure that you will receive prompt, professional service from our experienced technicians. We use the latest technology and tools to ensure that our services are of the highest quality. Our locksmiths are highly trained and have years of experience in the industry, so you can trust that they will provide you with the best possible solutions.
Commitment To Customer Satisfaction
In addition to providing top-notch service, we pride ourselves on our commitment to customer satisfaction. We are committed to giving customized attention and support to our clients and ensuring that all their requirements are addressed. We understand that making decisions during an emergency can be difficult, so we take the time to answer any questions and providetheinformation necessary to help you make the bestdecision.
Highest Quality Materials And Products
We also understand the importance of security and safety, so we only work with high-quality materials and products. Our locksmiths can install, repair, and replace locks, keys, and other security devices to help ensure the safety of your property and belongings.
At Emergency Locksmith Services, we are proud to offer our clients the best in emergency locksmith services. If you ever need the services of a locksmith, please do not hesitate to contact us. We look forward to assisting you!
Contact Us
At Emergency Locksmith, we understand that being locked out of your home or vehicle can be a stressful and frustrating experience. That's why we are available 24/7 to provide you with the help you need. We offer fast and reliable locksmith services, from lockouts and rekeys to door installations and repairs. If you need our services, please get in touch with us at (562) 340-4633. We are always accessible to answer your inquiries and provide support. Thank you for using the services of Emergency Locksmith!