Door Lock Change Whittier, CA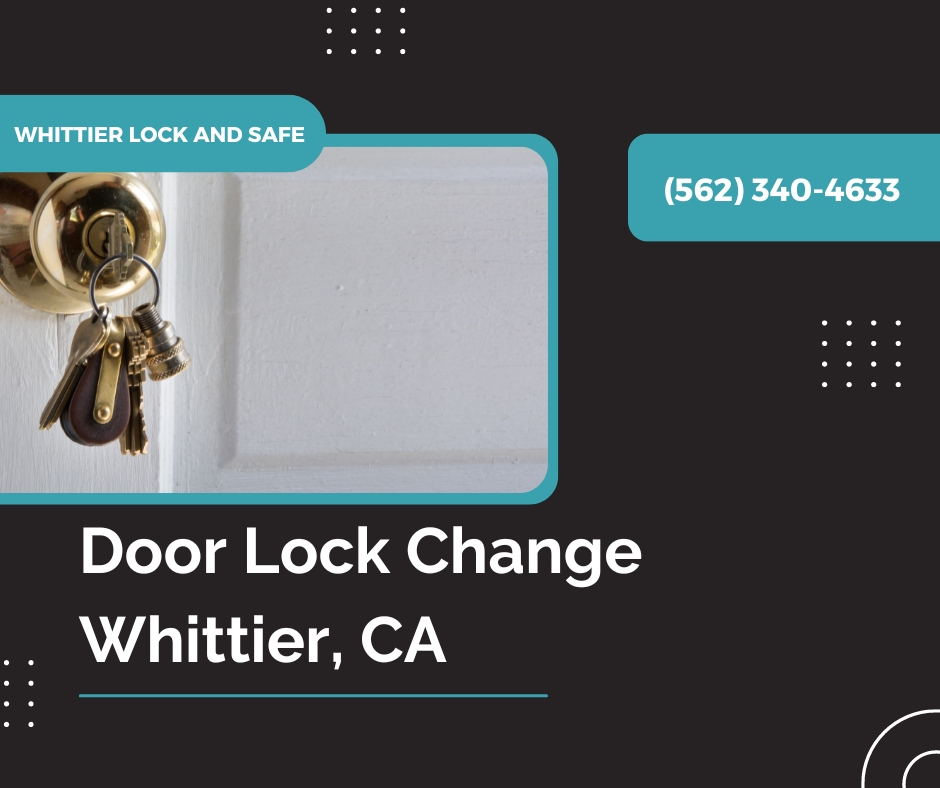 Door locks are an important part of home security. Changing door locks is essential for ensuring your home is safe and secure from intruders. It is also vital to ensure that only authorized individuals can enter your home. Changing door locks regularly helps to keep your home safe and secure from unwanted guests.
Our door lock change services involve replacing old or damaged ones with new ones. It is essential for improving security, preventing unauthorized access, and increasing the value of your home or business. Our services can include the assessment of the current door lock, the removal of the old lock, and the installation of the new lock.Whittier Lock And Safehave the expertise and training to ensure that the job is done correctly and efficiently.
Types Of Door Locks Available
At Whittier Lock And Safe, we specialize in offering an extensive selection of high-security locks that offer superior protection against lockpicking, tampering, and any other form of unauthorized access.
Our highly-trained, licensed professionals can assist you in finding the perfect high-security lock for your home or business and will guarantee expert installation and maintenance for optimum security.
At Whittier Lock And Safe, keyless entry systems are safer and more convenient than traditional locks with keys. These systems let you open your doors with a code, a key fob, or an app on your phone, so you don't need actual keys.
We have a variety of keyless entry systems to meet the needs of our customers. Our team of experienced and licensed professionals can help you choose the right system and provide expert installation and maintenance services.
Deadbolts are a popular and practical choice for securing doors, and at Whittier Lock And Safe, we offer a wide range of deadbolt options for our customers.
These locks provide an additional layer of security by requiring a key to lock and unlock the door from both the inside and the outside.
Our team of experienced and licensed professionals can help you choose the proper deadbolt for your home or business and provide expert installation and maintenance services.
Locks with lever handles are essential to keeping your home or business safe. We are a professional lock change company that can give you reliable, high-quality lever handle locks for your home or business.
Our locks are made of solid materials and come in various finishes and styles to match your decor. Our team of experienced locksmiths will help you choose the best lock for your home, ensuring it is as safe and secure as possible.
Knob locks are a popular and low-cost choice for locking doors, and Whittier Lock And Safe provides a variety of knob lock solutions to our clients.
These locks are simple to use and may give a simple and efficient method of securing your home or company.
Our skilled and qualified personnel can assist you in selecting the best knob lock for your home and provide excellent installation and maintenance services.
Benefits Of Changing Door Locks
Changing your door locks has various advantages:
Improved security:Improving security is one of the primary reasons to replace your door locks. Locks that are old or broken may be easy to pick or bypass, making your house or company susceptible to break-ins. Upgrading to new, high-security locks may improve security against illegal entry.
Unauthorized access prevention:If you've lost or stolen your keys, it's critical to change your locks to prevent others from obtaining entry to your property.
Upgrade to new:High-quality locks may raise the value of your property and make it more desirable to prospective purchasers. This is particularly critical if you want to sell your property within the next several months.
Peace of mind:Knowing that your door locks are secure may provide peace of mind and make you feel safer in your home or place of work. This is particularly true for folks who live alone or have little children.
Convenience: By removing the need for physical keys, keyless entry systems and intelligent locks may enhance convenience. Using these systems, you may use a code, a key fob, or a smartphone app to open your doors.
Enhanced style:Upgrading to new door locks is also a chance to improve the aesthetic of your house or company. There are several lock types, from classic to contemporary, so you can choose something that suits your unique preferences and style.
In conclusion, replacing your door locks may improve security, prevent illegal entry, raise property value, give peace of mind and convenience, and enhance aesthetics. It's a crucial part of keeping your house or company safe and secure, and it's worth thinking about if your locks are old or broken or if you've recently had a break-in or lost your keys.
Our Door Lock Change Process
Assessing the present door lock:The first step in changing the door lock is to evaluate the current lock. This entails inspecting the lock to evaluate its condition and functionality.
Taking out the old lock:After the present lock has been evaluated, the following step is to take it out. This entails carefully dismantling and removing the lock from the door.
Installing the new lock:After removing the old lock, the new lock may be installed. This entails installing the lock to the door with care and ensuring that it is correctly aligned and fastened.
Testing the new lock:Once it has been placed, it must be tested to check that it is working correctly. This may include repeatedly locking and unlocking the door to confirm that the lock is functioning properly.
Why Choose Whittier Lock And Safe For Door Lock Change Services
There are several reasons why you should choose Whittier Lock And Safe for door lock change services:
Experience and expertise: Our team of experienced and licensed professionals has the knowledge and skills to ensure that your new locks are installed correctly and securely.

Wide range of lock options: We offer a wide range of lock options to meet the needs of our customers, including high-security locks, keyless entry systems, deadbolts, lever handle locks, and knob locks.

Professional and efficient service: We take pride in providing professional and efficient service to our customers. We understand that you want your new locks installed as quickly and seamlessly as possible, and we will work efficiently to ensure that the job is done to your satisfaction.

Competitive pricing: We offer competitive pricing on our door lock change services, so you can get the security you need at a price that fits your budget.
Choosing Whittier Lock And Safe for your door lock change needs ensures that you'll receive high-quality service from experienced and skilled professionals. Contact us today at(562) 340-4633to learn more about our door lock change services and to schedule an appointment.